About Us
Imu-Tek is a leader in the collection, production and marketing of high quality bovine colostrum. Imu-Tek is licensed by the US Department of Agriculture. Imu-Tek was the first company to receive a USDA claim for passive transfer of immunoglobulins in a dried bovine colostrum product. For the animal health industry, we know healthy animals mean healthy profits for you. That's why we work to formulate the best product applications for your business. Imu-Tek is inspected by FDA to comply with their regulations for the human supplements industry.
Imu-Tek's mission is "to provide you, our customer, the freshest, highest quality colostrum in the marketplace."
Our colostrum products naturally contain high levels of IgG, IGF-1 and 47 other immune strengthening properties to stay healthy and thrive. No matter what your colostrum needs you can count on Imu-Tek products for maximum health results.
Production Services
Imu-Tek offers a number of custom production services to our clients. Our plant is equipped with processing and packaging systems. From product drying and custom blending to single packets, multi-dose pails and bulk packaging of private labeled products we have the production capability and laboratory technology to provide you the highest quality colostrum packaged in any form that meets your needs.
Single Dose Packets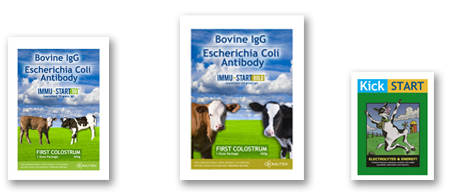 No matter what your needs for your calving operation we can provide every level of colostrum potency from our line up of our extensive Immu-Start /KickStart single dose package program. Our house brand colostrum products, Immu-Start 50 and KickStart can be purchased through numerous Farm Stores and Veterinary Product delivery programs around the country as well as online by the case.
Bulk Packaging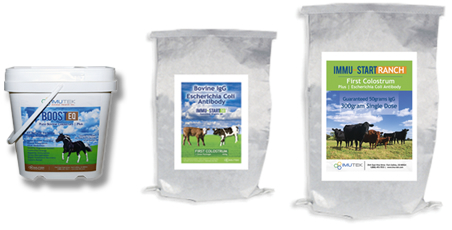 Often larger dairy and cattle calving operations need the economics that come with volume purchases. So we also offer our exclusive house colostrum products in bulk packaged form. All of our Immu-Start 50 and KickStart products can be purchased in multi-dose plastic pails or moisture proof bags. Our Immu-Start Ranch products are offered in bulk moisture proof bags. From multiple pails or bags to pallets of bulk packaged product we guarantee our pricing to be the most competitive on the market.
Custom Blending
Meeting your needs as a high volume dairy or a cattle calving operator is what Imu-Tek is all about. We are specialize in custom blending specific colostrum based supplement formulas to achieve the economics our clients are looking for. Helping you maximize your return on investment is key to building a long-term relationship with you. That's why we provide you with expert in-house animal health consulting to develop just the perfect product for your operation.
Private Blending
Looking to produce a custom product with private labeling? You've come to the right place. We have the production capacity and the raw materials to get the job done for you. We are one of the largest colostrum processors in the US and specialists in developing and manufacturing exclusive formulas for private distribution. We have a state-of-the-art processing and packaging plant. Our in-house lab is second to none when it comes to testing your products to ensure we meet all your quality control standards. We also have a graphic design department to help you with label and package production.
Custom Drying
Need a regional facility to custom dry your raw products? We have one of the largest dryers in the Rocky Mountain Region. Whatever your needs in controlled product drying we can provide you with advanced drying technology along with an expertly trained staff who knows how to get the job done. Concerned about the economics of custom drying? Say no more. We can get you to a positive bottom line based on:
Volume,
Quality
Delivery
Warehousing
Let Imu-Tek be your regional drying facility - we can save you money!